Madrid, 29th March 2022. – Alicia Koplowitz, Chairwoman of the Foundation that bears her name, has been appointed Honorary Academician of the Spanish Medical-Surgical Academy during the Inaugural Ceremony of the Academic Year 2022 in the Sala de Grados of the Faculty of Medicine of the Complutense University of Madrid.
In her speech, entitled 'Diseases of the soul', the Chairwoman of the Alicia Koplowitz Foundation called for greater social involvement in the care and prevention of mental disorders during childhood and adolescence.
The Chairwoman also announced that the Foundation will launch a new project, which will include the creation of an online training platform in Child and Adolescent Mental Health, aimed at teachers, school counsellors, paediatricians and family doctors; as well as the creation of a Mental Health liaison and counselling team for the care of children and adolescents in schools.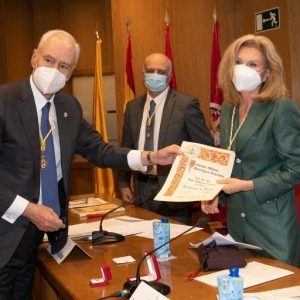 Nota-prensa-VERSION-2-NdP-Academica-Honor-Academia-Medico-Quirurgica-v.-29032022.-AU